Introducing: Daily Cup of Coffee
Here's a site I've been planning to make for awhile now: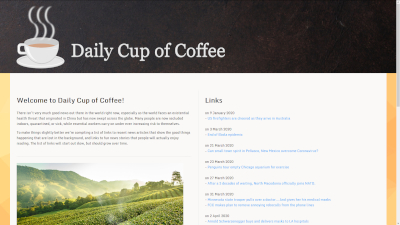 Link: dailycupofcoffee.com
Daily Cup of Coffee is a site that will compile a list of links to recent news articles that are good news or funny. Not "feel bad" news stories.
Credit goes to my sister for suggesting the name "Daily Cup of Coffee", which helped me shape the design and feel of the site, which I can easily continue to use as a consistent theme as the site expands in the future.
- Thanks for reading!
- Ian M.